What is Parquetry in Flooring?
Parquetry is a style of flooring created by arranging planks or tiles of wood in decorative geometric patterns. Seen in homes, public places and featured heavily in trend-setting home decor publications, parquetry has been the world's most popular flooring design for a long time and dates back to the 16th century.
Although originally parquet flooring was constructed from a variety of solid woods, with more modern developments of engineered flooring a wider choice of material is now available. Increasingly engineered wood, with a top layer of real wood and composite core, has become popular – offering all the same benefits of solid wood but with added stability and longevity. Recently engineered vinyl parquet flooring has also been developed, offering 100% waterproof benefits but with the same aesthetic finish as wood.
Styles of Parquet Flooring
There are many different designs of parquet flooring, most often following variations in the shape of the letter 'V', with the planks repeatedly arranged at angles to form the shape. This 'V' shape includes two types: herringbone and chevron, depending on the alignment of the tiles with overlap or flush fitting.
The real beauty of V-style parquet flooring is laying it so it's either diagonal or parallel in relation to the walls. This portrays a sense of direction that makes your spaces appear larger and more interesting to the eye. In addition, the variation in colour and tone of each individual plank creates stunning and unusual statement floors, each completely unique.
The herringbone pattern is created by laying planks pre-cut into rectangles with 90 degree edges, arranged in a staggered layout so one end of a plank meets the other end of the adjoining plank, forming a broken zigzag design. The two planks are fitted together to form the 'V' shape. They are supplied as two different styles of plank to create the design and can come in many different lengths and widths.
TThe chevron pattern is cut at 45 degree angle edges, with each plank forming a perfect 'V' shape. This forms
a continuous clean zigzag design and each plank is placed above and below the previous.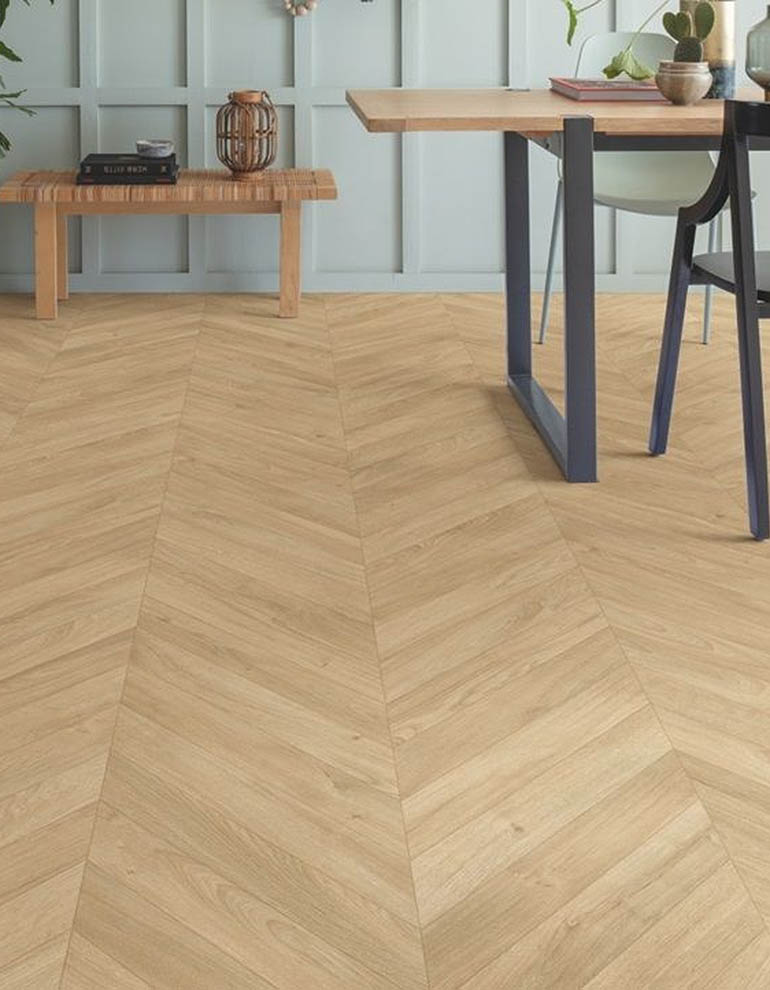 Other Styles of Parquet Flooring You can buy parquet boards to create a multitude of different designs and shapes – circles, inlays, bespoke designs, really the possibilities are endless. Although for these you will likely need bespoke product and a flooring installation expert.
In the UK, herringbone flooring is established as a firm favourite. Whether your style is traditional or contemporary, colours mixed into this timeless pattern creates stunning and timeless visual impact which will complement any decor.
---
Post time: Jan-03-2023